Happy Lunar New Year! Wishing you and your loved ones happiness, prosperity, and longevity in the Year of the Horse.  Here's what's in store:
Summer Internship 2014
Every year, API Equality-Northern California embarks on an intensive summer internship program to develop the next generation of LGBTQ API social justice and cultural change leaders. Interns receive in depth trainings on a broad variety of topics, and employ dynamic approaches for intersectional and multi-issue based organizing.
Hear from our previous interns.
---
AB1266: Supporting All Students
We are proud to announce that we've joined the Steering Committee of the Support All Students coalition to defend AB1266, CA's School Success and Opportunity Act, an important law that helps to ensure that all students, including transgender students, are provided with a supportive school environment where they have equal opportunities to be successful. Stay tuned for more information as our work unfolds!
---
Volunteer of the Month
FEBRUARY 2014 | TOBY WU
"There are pipelines to how we should be and who we should become, but I want to create my own, unique narrative of who I am and what kind of life I live. Dragon Fruit made me think about my own past and helped me answer those questions for myself."
Read More
---
Dragon Fruit Project presents at Stanford's Listen to the Silence Conference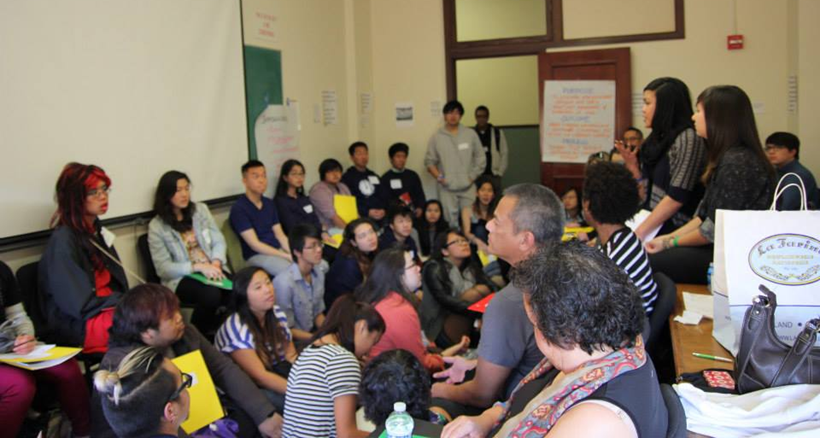 Every year, Stanford University holds the Listen to the Silence conference, a conference that brings together students from the Bay Area and provides a platform for exploring Asian Pacific Islander issues and activism.
Our workshop, which focused on the experiences of those who have participated in The Dragon Fruit Project, raised the question: what comes to mind when you think of "intergenerational conversations?"Read more about our workshop!
Click here to RSVP for our next Dragon Fruit Transcribing Day, March 9th.
---